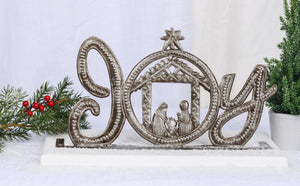 Enjoy this beautifully done and intricately designed nativity scene is hand made from recycled oil drums.  The details of each nail indentation are something worth marveling over.  Enjoy this craftsmanship in your home year after year as you decorate for the joyous Christmas season. 
Also available in the words HOPE and PEACE.
Handcrafted from metal steel drums, Haitian metal art is known worldwide.  Metal drums that were once used for transporting oil or other goods are taken to the village of Croix-des-Bouquets and made into exquisite pieces of art. When visiting the area you can hear the sounds of artists at work hammering the drums into unique designs that will add culture and beauty to your home. 
Size:  14" x 8"